Mask Vehicle to Prevent Overspray Damage
The following refinish information is provided should it be necessary to perform these operations as determined by individual job requirements:
MASK INTERIOR, ENTRYWAYS, ENGINE COMPARTMENT AND TRUNK OPENINGS
Interior masking may be necessary when refinishing exterior surfaces to stop overspray damage that is not prevented by adjacent panel perimeter masking which includes back taping or application of foam tape. Interior masking may also be used when exterior panels (door, hood, etc.) are removed while applying refinish material. The performance of this operation is NOT INCLUDED in the Mitchell refinish labor time.
Fig. 1: IDENTIFYING INTERIOR MASKING LOCATIONS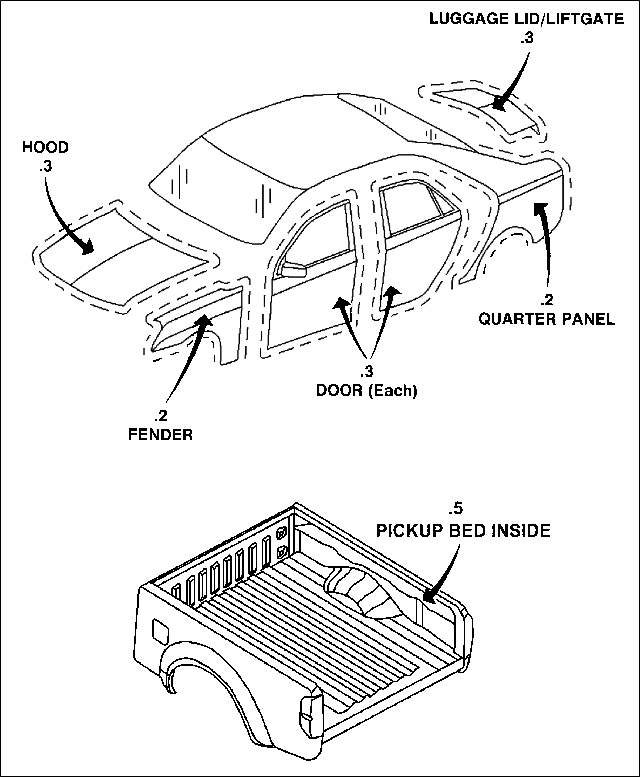 NOTE: The times shown in the illustration are for interior masking of that panel and/or opening. Labor time includes all pillars, jambs, weatherstrips, edges, entryways and openings as necessary. Deduct .1 hour overlap for each interior masked adjacent panel and/or opening.
The Mitchell REFINISHING MATERIALS GUIDE has the Latest Available Costs for Materials Used in Single and Multi-Stage Refinishing, and is an Accurate Source for Determining Costs.